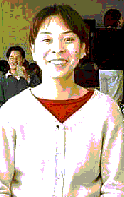 Hana Iseki - Japan
Hana is doing a 25-week course at the Hawthorn English Language Centre in preparation for further study in environmental science. Hana wrote about why she decided to study in Australia, and about her plans for the future. I am a Science student in Japan at Saitama University. I wanted to travel abroad to study English and Environmental Studies, and I heard that Australian universities have a reputation for environmental studies. I think it is very important now to study the environment. There are many environmental problems in the world. We shouldn't fight about these problems; we have to cooperate with everyone. In Japan, most people know that we have to do something about the environment, however people don't know how to work together.We need professional people to study environmental issues. Hawthorn helps my dreams come true.

Because I didn't reach the required English score for University, my agent recommended that I go to Hawthorn first. I can concentrate on my English at Hawthorn. I study in the library and practice my conversation in the ILC. I play sports in lunch time or after school, and I have joined the Music Club in SCOPE. It is good for my mind and body.

Melbourne is also good for my spirit. There are many good places to visit, and much nature. I think Melbourne is safe and not too busy or noisy. Now I learn not only English but also people's kindness and warmth. When you are sad or have some trouble, you can talk to the nurse or the counsellors at Hawthorn.

I believe that this experience makes me brave and extends my possibilities. After I finish studying in Melbourne, I will go back to Japan and graduate from my university. Then I hope to get a job where I can solve environmental issues.