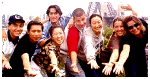 Some words of advice from Eduardo Souza and Sabrina Ribeiro, the students of the Australian Centre for Languages:

"When we decided to study in another country we had no idea that you should really consider all aspects involved in your choice otherwise your dream can become a nightmare. There are so many options all over the world, we picked a magnificent country called Australia.

The problem was that we did not know much about the city we had selected to go to. In fact, we do not know why we did not select Sydney in the first place. We were very happy we were going to study overseas but we did not realize that we would face so many things we were not prepared for, such as new culture and costumes, the language barrier, and a brand new start in our lives.

When we first arrived in that city, the problems started. The school was very far from the downtown area. The accommodation was very expensive ($80 per day). We did not know how to catch a bus or a train. We had to walk 40 minutes to get to the train station. And we also did not like the school very much as they did not give us much support. We were feeling really frustrated.

Then we decided to move to Sydney. We remembered that our agent in Brazil had mentioned that there was a school at The Rocks in Sydney called acl. Then, we contacted our agent and she helped us to contact acl. Soon we moved to Sydney and what a change. We started our courses at acl and we have been here for 7 weeks now. We are very happy here. We have rented our a unit, we have got all the basic things like a microwave, washing machine, tv, telephone, etc. We are both working part-time and have made many good friends. We have also been to so many interesting places in Sydney. At the end of the year we will send beautiful photos of Sydney to our relatives in Brazil.

In conclusion, before one goes overseas, he/she should carefully choose the place he will be going to. In this way, he will have a wonderful experience as an International student.