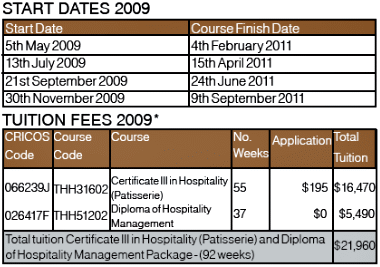 * For a comprehensive summary of all fees and charges associated with completing this program refer to the College's website www.shafston.edu
Employability


Confirmed in a recent Labour Market Analysis reported on the government employment and workplace relations website (www.workplace.gov.au) employment prospects for qualified pastry chefs remain very strong.

Entry to University
The Diploma of Hospitality Management can be packaged with a Bachelor degree at University. Successful completion of the Diploma will provide you with some credits toward a degree.

INDUSTRY WORKING EXPERIENCE
In addition to regular support services Shafston supports its Patisserie students throughout their studies by helping them to find industry placements which will provide an opportunity to accumulate the 900 hours required for TRA (Trades Recognition Authority) skill's assessment.

PRE-REQUISITES FOR ENTRY
English
Successful completion of one year full time secondary or tertiary study, where the language of instruction is English, or an overall IELTS score of 5.0, TOEFL 173/500 or any other relevant English proficiency score.
Academic
Students must have successfully completed year 10 or equivalent.
TIMETABLE
The classes may be scheduled on any day of the week between Monday and Sunday over a maximum of 5 days/week. Students may have daytime or evening classes.